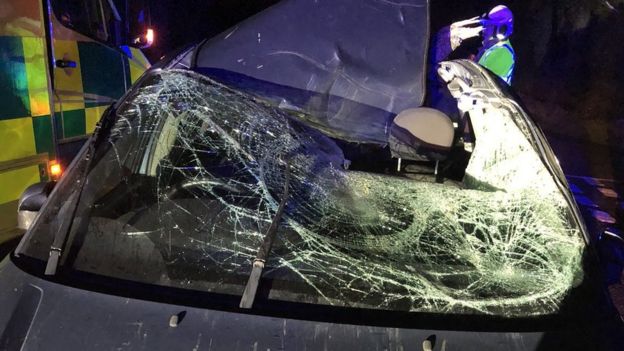 Thousands of homes lost power and travel was disrupted after Storm Eleanor battered the UK with gusts of up to 100mph (161kph).
The Met Office said the strongest winds had now passed for the UK, where four people were injured by falling trees.
Numerous road closures and public transport delays were caused by trees and debris during the storm.
As the storm swept into France, a skier was killed by a falling tree in the Alps and 15 others injured elsewhere.
In Cornwall, some residents have been advised to leave their homes at high tide because of a collapsed stone harbour wall in Portreath. The council says the advice is a precaution.
The Met Office said that during the storm gusts of more than 70mph were recorded across much of the UK.
The strongest gusts were 100mph recorded at Great Dun Fell in Cumbria at 01:00, 90mph at Orlock Head, Northern Ireland and 89mph on the Isle of Wight.
Power restored
More than 25,000 homes in Northern Ireland lost power but this has been restored to most of them, with fewer than 1,000 homes still without electricity.
About 400 homes in Wales
have had power restored
.
Scottish and English provider SSE said it had restored power to 18,000 homes since midnight after outages caused by the storm.